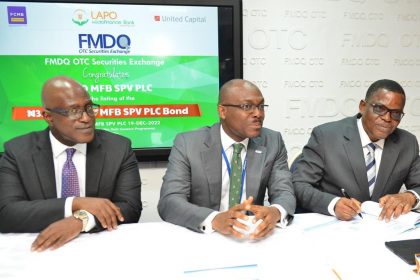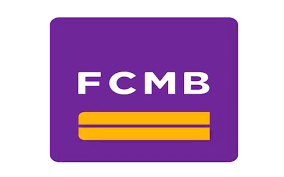 FCMB Capital Markets Limited, the investment banking subsidiary of FCMB Group Plc, has again demonstrated its advisory and capital raising capability by acting as financial adviser and Lead Issuing House on the successful fundraising and listing of LAPO Microfinance Bank Limited's N3.15 billion bond on the FMDQ OTC platform. The bond, the first ever by a microfinance bank to raise money in Nigeria's debt capital market, was priced at 17.75% and has a tenor of 5 years. The Issue was rated A- by Agusto& Co and BBB+ by GCR, which are investment grade ratings.
LAPO is a leading Microfinance Bank in Nigeria which commenced operations in 2010. Its banking activities are targeted at micro, small and medium enterprises, particularly women and micro enterprise owners who it provides loans to build their businesses. FCMB Capital Markets acted as the Lead Issuing House on the transaction. As a financial adviser, FCMB Capital Markets was responsible for, amongst others, developing a robust transaction structure that ensures flexibility for the issuer and comfort for the investors, and assisting to obtain regulatory approvals. FCMB Capital Markets is one of the few financial institutions in the country to consistently demonstrate the ability to structure transactions of this nature, having successfully executed similar complex deals previously.
LAPO Microfinance Bank stated that the proceeds will be used to deepen its business in the country, strengthen its capital base, expand its branchless banking solutions and enter new market segments, including the launch of its agency banking model and the deployment of e-business solutions, among others. Speaking during the bond listing ceremony on Tuesday, March 27, 2018 in Lagos, the Executive Director of FCMB Capital Markets Limited, Mr. Tolu Osinibi, said, ''we are excited and grateful at having been given the opportunity by LAPO Microfinance Bank to have played a leading role on this landmark transaction, where FCMB Capital Markets acted as financial adviser and the Lead Issuing House on the first ever bond issuance by a microfinance Institution in Nigeria's capital markets. The success of this transaction speaks to the institutional strength of LAPO and an affirmation of this strength by institutional investors that have trusted LAPO with the funds they manage. Following from the success of its capital markets debut, we at FCMB Capital Markets expect to see LAPO become a repeat issuer, and we also anticipate that this landmark transaction will open up the capital markets to other microfinance institutions that meet the criteria".
Also speaking, the CEO of LAPO Microfinance Bank, Dr. Godwin Ehigiamusoe, said, ''the gap between the demand by micro, small and medium businesses and the little supply is still huge. LAPO Microfinance Bank was only able to deliver loans valued at N135.7 billion in 2017. The capital market remains one of the most viable and affordable options for medium and long term financing for on-lending. We have therefore made a very sound decision. With excellent corporate governance, experienced management, committed staff and extensive footprints across Nigeria, LAPO Microfinance Bank is poised to deliver its core mandate of enhancing financial inclusion. We will continue to enable the under-banked and economically active poor to become active participants in the national economy.'' FCMB Capital Markets Limited has been involved in several landmark transactions in Nigeria over the past three decades. The firm provides comprehensive advisory services, combining innovative advice and proven execution skills to domestic and multinational clients. Its services include but are not limited to financial advisory, debt and equity capital raising including initial public offerings, mergers and acquisitions, project and structured finance. It has acted as an adviser and arranger of choice to Nigeria's leading companies and public institutions.
Also, the decision to list the bond on FMDQ is based on the fact that, as a debt-focused securities exchange, FMDQ has shown strong commitment to facilitate growth and development in the financial market through its platform for the registration, listing, quotation and valuation of bonds. The leadership of the exchange continues to run an efficient, transparent and well-regulated market, which attracts and retains both domestic and foreign investors.