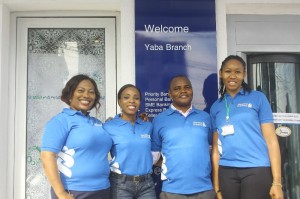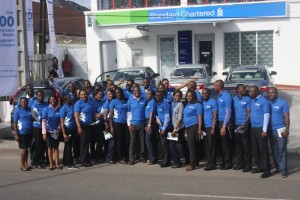 Standard Chartered Bank Nigeria officially opened its new branch located in 279, Herbert Macaulay, Yaba, Lagos. The opening of the branch is as a result of the Bank's strong business growth in Nigeria and its strategic expansion drive in the country. Lagos presents the Bank with tremendous opportunities in a country which is central to our business footprint in Africa. The strength of the Nigerian market has been reflected in our Bank's business growth which has been exponential.
As part of efforts to identify with the branch community, the bank's staff took part in the traffic control at Alagomeji junction by assisting the authorities with the control of vehicles at the junction. The community service, which span the whole day, further confirms the bank's commitment towards delivering its brand promise "Here for Good".
Bola Adesola, the Managing Director of Standard Chartered Bank, Nigeria said:
"We are quite pleased with the generous support we have received from the Government and people of Nigeria since we commenced business here in 1999. This has been quite encouraging and we fully intend to keep up our side of the bargain by consistently delivering on our brand promise to our customers. We believe this is an auspicious period to capitalize on the extraordinary growth dynamics in the country and the establishment of another branch in Lagos Mainland is a key element in executing the bank's strategy to grow the business and outperform our competitors. We appreciate the continuous support we have been given by the people of Lagos and we look forward to the growth of our business across all indices in the state."
New customers of the branch will enjoy the partnership of an International Bank that offers over 100 wealth management packages and other innovative financial solutions such as hassle free personal loans, mortgage loans at competitive rates, Priority Banking, Employee Banking, eSaver, debit and credit cards. The first 100 customers of the branch will also enjoy amazing offers like free movie tickets, instant gifts, free Naira Visa Debit Cards and free International transfer for one month.