ECOBANK Plc. Ecobank is Nigeria's largest bank brand with over 600 branches. It is also the widest banking network in Africa with presence in 32 countries predominantly in Sub-Saharan Africa.
Background
Ecobank Transnational Incorporated (ETI), a public limited liability company, was established as a bank holding company in 1985 under a private sector initiative spearheaded by the Federation of West African Chambers of Commerce and Industry with the support of ECOWAS. The dual objective of ETI is to build a world-class Pan-African Bank and to contribute to the economic and financial integration and development of the African continent.
The 100% acquisition of the shareholding in Oceanic Bank in 2011 has increased the asset base of Ecobank Nigeria, a subsidiary of ETI, making it one of the five largest banks in Nigeria. Today, with over 610 free-standing branches, Ecobank Nigeria is the second-largest bank in the country by branch network.
Final Set of Winners Emerge in Ecobank Win Big Promo
Grand Prize Winner Emerges In Ecobank Win Big Promo
Green James Rose of Ecobank king Jaja branch in Bonny, Rivers State has won the grand prize in the Ecobank Win Big Promo that ended in December. Green James Rose, who won a Nissan SUV, emerged from amongst 1,519,340 who qualified for the grand prize. Also, Margaret Omisakin of Ile-Ife Branch is taking home a Nissan Salon car being the star prize for the fourth win big draw combined with the grand draw event.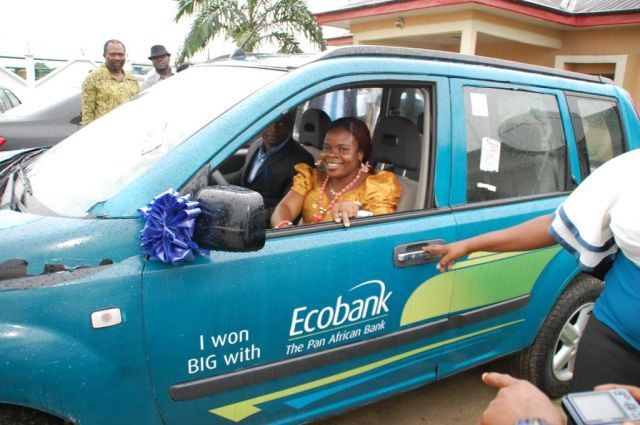 Grand Draw Winner of the Brand New Nissan SUV, Mrs. Green James Rose in Bonny, Rivers State.
Addressing customers and guests at the draw event which held in Lagos, Funwa Akinmade, Head, Domestic Bank Products said Ecobank has kept faith with its customers by rewarding them monthly since October 2012 through the Win Big Promo. Previous draws held in Port Harcourt, Abuja and Lagos.
He emphasized that the bank had decided on the promo as its own way of encouraging people to be diligent in savings, which for him would come handy during the rainy day. In his words "It has been wonderful to hear the pleasure and happiness in customers' voice as they are informed of their winnings!" We encouraged old and new customers to open or grow their accounts with Ecobank and be rewarded for it."
Winners in other categories include Luqman Amolegbe and Okeke Sunday, both customers from Olojo and Alaba International Market branches respectively. They won 2.5kva generators each. Winners of two 32 LCD television sets were Adeniyi Peter and Dr. Aikhondare, while Akingbade Remi (Ejigbo branch) and Otubanjo Adegboyega (Ahmadu Bello, V.I. branch) both from Lagos emerged winners of Blackberry phones.
Also Dr. Onyo Uwomano and Mshela Vincent Audu from Abuja won 32 LCD TV each, while Ikwubor Godwin (Port-Harcourt region) and Wellington Precious (Mission Rd, Bonny) won 2.5kva generators each. Two Blackberry phones were won by Anthonia Okafor (Garki) and Adeniyekun Adekun Adebayo and Esther (Ibadan Lebanon).
National Lottery Regulatory Commission and Consumer Protection Council represented at the event commended the bank. Mrs. Susie Onwuka of the Consumer Protection Council, Lagos Office, said Ecobank is a customer centric bank and "the transparency of draws attest to the fact".
Ecobank Nigeria had announced the Win Big Promo last September to reward loyal customers who actively operate their Ecobank current and savings accounts.
The "Win Big with Ecobank" promo gives each customer the opportunity to own new cars at each of four monthly draws and a grand prize of a Sports Utility Vehicle (SUV) at the grand draw.
New customers who open an account with a minimum of N20,000 will be entitled to an instant gift and also qualify for the monthly draw if they maintain the deposit for a 30 day period. Existing customers who increase their balance by N20,000 qualify for the draw and multiples of N20,000 give the customer more chance of winning. To be eligible for the grand prize a customer is expected to maintain a minimum balance of N20,000 for 4 months to give a total of N80,000; multiple entries of N80,000 was permissible.