AXA Mansard Insurance plc. has today announced the upgrade of its rating by the global insurance rating agency, A.M. Best, from "bb+" (Fair) to "bbb-" (Good) for the Issuer Credit Rating (ICR) and "B" (Fair) to "B+" (Good) for Financial Strength Rating (FSR). The rating agency also assigned a positive outlook to the rating.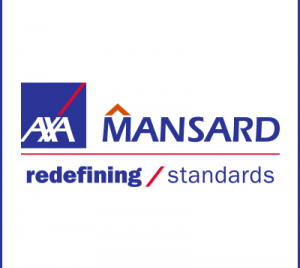 A.M. Best in its press release stated that "the positive outlook reflects AXA Mansard's consistent excellent underwriting performance, as demonstrated by the five-year average non-life combined ratio of 83%". The agency further stated that "A.M. Best expects AXA Mansard's underwriting earnings to remain strong, supported by its solid competitive position as a top five composite Insurer in Nigeria, the benefit of its wide and expanding distribution network, as well as effective risk management".
This rating remains the highest rating received from A.M. Best by any Nigerian Insurer and second highest received by any Insurer in sub-Saharan Africa. AXA Mansard Insurance remains an outstanding Insurer with strong financial strength and excellent underwriting capabilities. The organization has demonstrated this over the years through its superior financial and technical competencies.
In the first half of 2015, AXA Mansard reported a 7% increase in Net Premium Income, 18% growth in Profit Before Tax, whilst sustaining significant growth in the Health Insurance and Investment segments. AXA Mansard has achieved measurable results through the effective implementation of sound risk management principles which reflect in the Company's recognition at the recent Nigerian Risk Awards. The company has also received several other awards including the Award for Promptness in Claims Settlement by LCCI and was also recently adjudged one of the top 50 Brands in Nigeria.
Commenting on the rating, Mr. Tosin Runsewe (Chief Client Officer) said "We are delighted that our quest to build a world class insurance company with global expertise and local competence has not gone unnoticed. The upgrade of our A.M.Best rating to an amazing BBB- clearly emphasizes our leading position and further validates our capacity to provide superior security for our discerning customers, both local and multinational".
A.M. Best Company is a global credit rating agency with over 100 years history of providing quantitative and qualitative assessment for Insurance companies, with its "Best's Credit Rating Methodology" used to determine the financial strength and creditworthiness of Insurance companies. A.M Best is the world's oldest and most authoritative insurance rating and information source. For more information, visit www.ambest.com.