AXA Mansard Insurance plc has emerged winner in the category for the Award for Promptness in Claims Settlement in the insurance industry at the Lagos Chamber of Commerce & Industry (LCCI)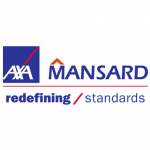 2015 Commerce and Industry Awards which held on Saturday, August 8, 2015 at the Muson Centre, Lagos.
The selection criteria were transparency and insurance best-practices, following the feedback that the professional body received from insurance industry monitoring and regulatory bodies.
Commenting on the award, Mr. Henry Akwara, Divisional Director of Claims & Risk Management said: "this is remarkable and can be attributed to the culture and values that define AXA Mansard. The AXA Mansard culture reflects in all that we do. We hold very dear our culture of excellence and we are driven by an unequalled passion to always exceed our customers' expectations. These and many more are the reasons we are head and shoulders above competition.''.
Furthermore, he said "Our claim settlement process has a unique turnaround time and is devoid of any form of delay, after the validity must have been ascertained by our claim processing team".
He further admitted that the award and other similar recognition the company has been receiving are seen as testimonials to its outstanding performance and they further challenge the organization not to rest on its oars but to continue to strive for excellence.