Standard Chartered Bank Nigeria Limited has fulfilled the promise it made to its customers by rewarding them for their loyalty over the years. The bank's Mega Rewards promotion was cappedwith the presentation of a Porsche Cayenne SUV to Mr. Taiwo Ayoku, a Lagos based businessman, who won the star prize in the promotion.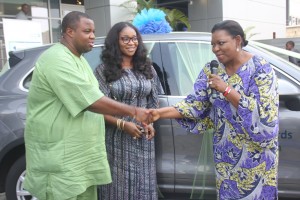 The Mega Rewards Promo, which ran from February 17 to June 30, 2014, was a deliberate effort by the bank to encourage its customers to save. The mode of participation was clear and quite simple as existing customers were required to deposit a minimum of N50, 000 in their accounts and maintain the amount for 2 months to qualify for the mini draws. Customers qualified for the Grand draw if they maintained the funds in their accounts for 3 months.
During the award presentation at the bank's corporate headquarters' located on Ahmadu Bello Way, Victoria Island, Lagos on Friday, October 31, 2014, Mrs. Bola Adesola, Chief Executive Officer (CEO) of Standard Chartered Bank Nigeria Limited stated as follows;
Today marks another demonstration of our brand promise, "Here for Good". We are here today to fulfil that promise – by rewarding our loyal customers who have chosen Standard Chartered Bank as their trusted partner. As a bank that connects its customers to global opportunities around the world, Standard Chartered Bank has built a reputation of trust for over 150 years. We value our relationship with our customers because we believe that the strength of any relationship comes from listening, understanding and responding adequately to their needs. This is why we commenced the 2014 Mega Rewards Promotion in February."
Diran Olojo, Head, Brand & Marketing – Nigeria & West Africa, Standard Chartered said;
"One of the objectives of the Mega rewards promotion was to grow our customer base in addition to expanding our deposit base. As we grow our business, it is our delight to also ensure we meet the aspirations and financial needs of our customers. We are here today to establish the fact that we will always deliver on the promises we make to our customers, a clear demonstration of our commitment to our brand promise 'Here for good'" he stated.
Taiwo Ayoku, the proud winner of the Porsche Cayenne, who attended the event with his wife, stated that he has maintained his account with Standard Chartered Bank for over four years. Naturally, he was elated to have won the star prize and reiterated that he will continue to be a committed stakeholder of the bank.
At the end of the promotion, five other customers emerged as millionaires while a total of sixteen customers also won consolation prizes such as iPads and smart phones.